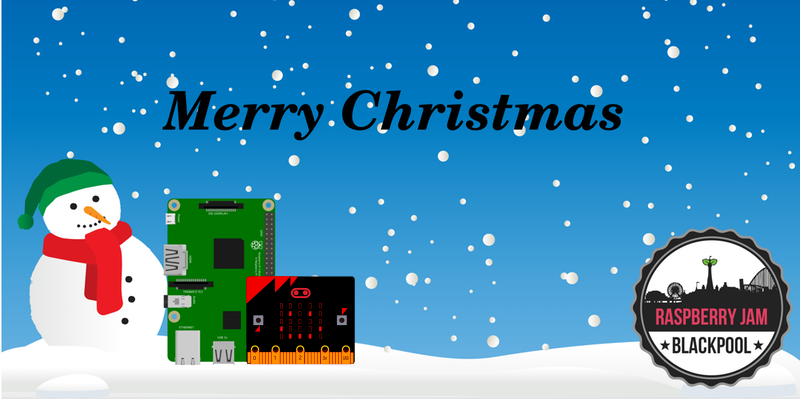 In a workshop far away, elves work night and day to bring us the latest toys and gadgets. In his office, Father Christmas has a problem....
"I've run out of ideas!!!"
Can we help Father Christmas?
Makers of Blackpool Raspberry Jam... Father Christmas needs your help to design the latest toy / must have gadget!



You need to design and build a new toy for Father Christmas at Blackpool Raspberry Jam

Makers! Let's Invent:Advent and save Christmas!!
Parents / Guardians
This is a project called Invent:Advent, that I (Les) started to help children to invent and explore what they can achieve for very little money.
The basic rules of the project are
You can spend no more than £5 on parts and they must come from a Poundshop (Poundlan or less than £1 for bits and pieces from B&Ms / Home Bargains)
Children are free to take the project in any direction they wish (arts, crafts, electronics, computing, sewing, knitting etc)
Blackpool Raspberry Jam will provide tools and equipment on the day, so there is no need to worry about bringing screwdrivers / cellotape etc. But if you have a specific piece of equipment that you need for the day, bring it with you.
Children are encouraged to work together.
There will be prizes!!
On the day we shall also be taking lots of pics which we shall share on Twitter via the invent:advent hashtag. (Parent/Guardian consent will be asked before doing so)
What did we make last year?
Well we had lots of projects made from arts and crafts and electronics.

We had a light up Christmas scene.

and we had a light up snowman
Will there be food?
Les has had a word with Father Christmas, and there will be..Cakes and pop!!!

Will there be presents?
Possibly ;)
So what do we need to do?
Parents
Have a word with the children and ask them to come up with some ideas and write them down.
Pop to the Pound Shop and pick up some bits, remember don't spend too much!
Makers
Start writing your ideas down and help Father Christmas to create the latest gadget / toy invention!